Butler University recently ran its first cohort through a business program for lawyers called Lawyer to Leader and I was fortunate enough to be one of the participants. If you desire to become a leader in your law firm or organization, I highly recommend you apply for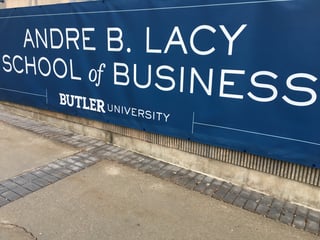 the next class at Butler. This program was especially fitting for me as our firm has grown from 5 people in 1 location to ~25 people in 3 locations in the 4 years we've been in existence. I've personally gone from 95% legal work for clients to less than 25% legal work for clients and now most of my time is devoted to strategy, communication and team development. The years of being part of many business decisions with clients and having a significant interest and activity in outside interests in real estate services and venture capital have been very helpful but time dedicated to concentrate on developing leadership skills has been extremely valuable for my own growth and I plan for the numerous lessons to impact our law firm.
This Lawyer to Leader program covered: (1) Leader Traits and Behaviors; (2) Leadership and Decision Making; (3) Leading and Managing Change; and (4) Communicating Effectively as a Leader. Each of the sessions was meaty, challenging and left me wanting more. The sessions were led by the terrific faculty at Butler University along with assistance from an industry partner, such as a former managing partner of a law firm or in house general counsel. The program was largely case based learning, so that was familiar and comforting as a lawyer even if the material or discussion was different.
In the Leader Traits and Behaviors, we took a self-assessment that rated us on 5 major leadership traits: (1) Extraversion; (2) Agreeableness; (3) Conscientiousness; (4) Neuroticism (for this purpose emotional intelligence); and (5) Openness to Experience. What was most insightful was that conscientiousness, the ability to control and regulate our impulses and self-efficacy, orderliness, dutifulness, achievement-striving, self-discipline and cautiousness, was the number one factor that drives leadership effectiveness. The same study showed that those who are very agreeable, concern with cooperation and social harmony, were the least effective leaders.
In Leadership and Decision Making, we discussed identifying steps of an effective decision-making process, common pitfalls in decision making and how to develop a range of creative solutions for organizational problems. One of the most insightful activities was a Harvard Business School assessment that revealed many of the biases we employ in decision making and steps we can take to recognize those biases.
Leading and Managing Change is increasingly becoming a bigger topic for law firms as many baby boomer lawyers near retirement and a new cohort of lawyers join firms that are not used to or expect the practice of law to be a protected guild insulated from the influences of technology. In this portion of the course we discussed topics law firms need to proactively address with clients such as lawyers experience and capability with project management, and becoming more efficient in the delivery of services.
In Communicating Effectively as Leaders we discussed authoritarian, democratic and laissez-faire communication styles, took a self-assessment on our own willingness to communicate in a variety of situations, and discussed how to have difficult conversations.
If your career is taking you down the path of leadership or you desire to grow into leadership, I highly recommend you apply to participate in the next Lawyer to Leader program at Butler University.
ABOUT GUTWEIN LAW
Gutwein Law exists for one reason ‐ to help some of the best, most forward‐thinking businesses in the world and their stakeholders grow through high‐level legal counsel. Gutwein Law knows that we can only help grow companies and their stakeholders if we have the most forward-thinking, business minded legal talent, so we continuously invest in the development of our people.
ABOUT THE AUTHOR - Stuart Gutwein
Stuart Gutwein is co-founder and attorney at Gutwein Law. His career encompasses over a decade of experience in several areas of business including mergers and acquisitions, business formation, and product development. He currently serves on the Indiana Business Law Survey Commission, serves as a board member of M25 Group and is an active member of the Ag Law Council of the Indiana State Bar Association.