People often ask me if they should share their estate plan with their kids. My answer is yes, but… The "but" portion relates to how you share the information with your family. I do not recommend that you simply give your kids a copy of your plan documents. That really isn't very productive.

You want to share your message, not just your plan, in a way that will be understood. You want to head off any animosity that might be inadvertently caused by misunderstandings or poor communication. We're happy to discuss these things with you and help you think about how you might communicate with your own family.

Our client posted this piece about their own family meeting recently. I think it is great and hope you will enjoy it.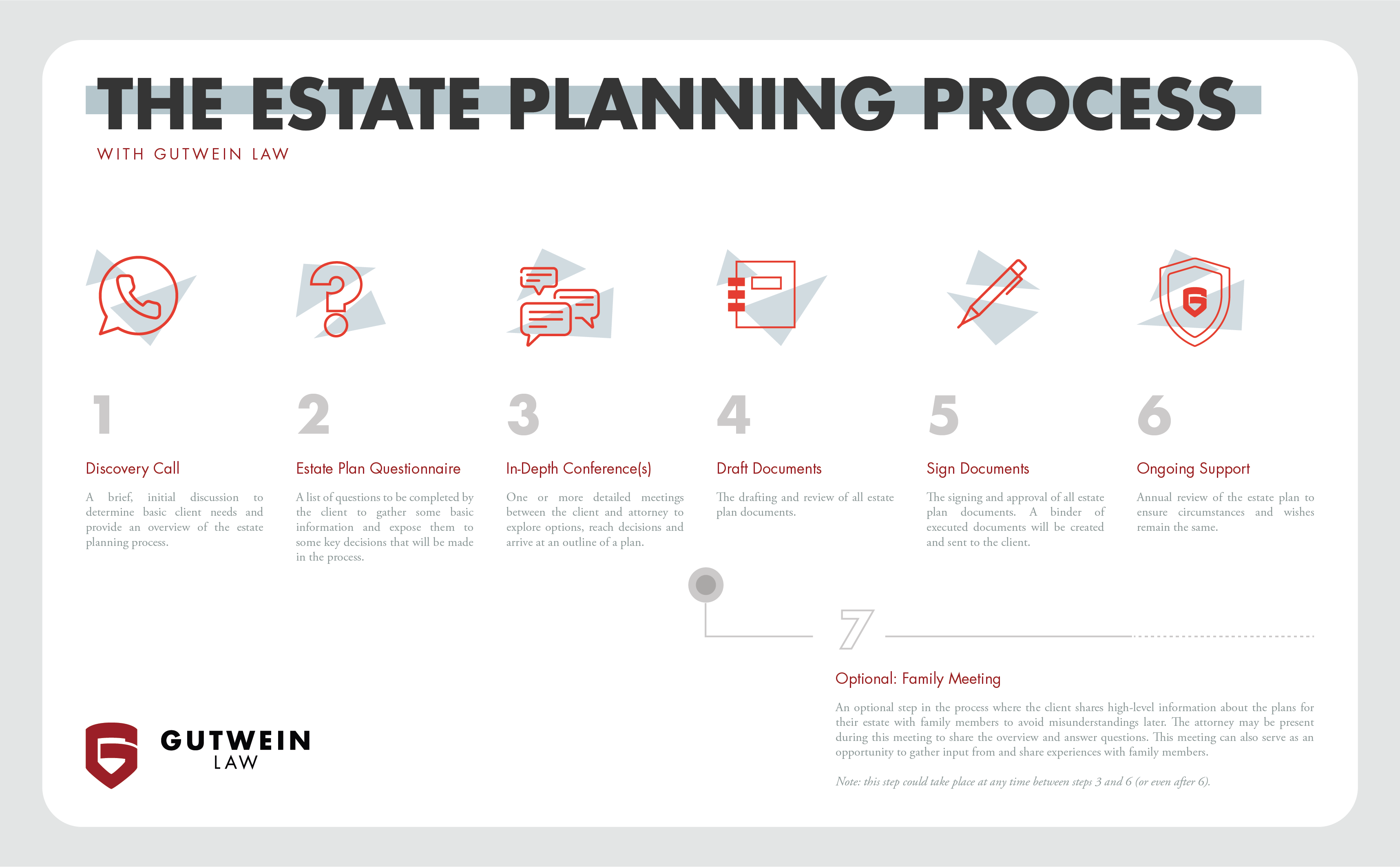 An overview of the Gutwein Law Estate Planning Process
"Family Meeting — W or W/O You"

"The question is not IF you will have a Family Meeting, but IF you will be present." That's the crux surrounding the Family Meeting topic, summarized best by my estate attorney.

Over the past 5 years or so, I've been in a mode of organization regarding my financial affairs. No, I'm not aware of any impending terminal illness. I've simply been more keenly aware of the fleeting nature of life and the importance of redeeming the time, especially with those I love most.

Motivation.

A Family Meeting is not a novel concept. We had some guidance from others and also a similar experience in the past with my wife's family. In addition, a friend who conducted a Family Meeting recently graciously shared their outline which was very helpful. The point is not to fret and procrastinate in an effort to get it perfect, the point is to get it going. This is not necessarily a one-time meeting. None-the-less, here is our condensed outline of the Family Meeting we held in March of 2021. It is important to note that we prefaced this meeting with a preview at Christmas 2020, which included a foundation (inspiration), outline (motivation) and purpose (execution).

In addition, we conducted individual short pre-meeting calls about a week prior with each of our kids along with their spouses to review any questions on the agenda and supporting information (Org Chart, asset and net worth % in various categories, charitable giving % in various categories, etc.), and we discussed expectations and concerns. After these phone calls, we compiled the information, shared it with our attorney, and made some decisions based on this such as family vacations and lake house ownership. This gave our kids the opportunity to share openly and confidentiality their preferences but the final decision on these matters was ours and it was shared at the meeting with limited discussion. This was a valuable step. Don't skip it.

It is essential to remember that the in-laws may have very different socioeconomic backgrounds, so sensitivity in this area is important. Also, everyone has different sophistication levels surrounding financial and legal matters. Avoid acronyms if possible. Making people feel ignorant impedes participation.

It is critical to stress and help facilitate childcare, if necessary. Attendees need to be focused and not distracted by young children. It is also beneficial to have an adults only dinner or activity either before or after the Family Meeting…just for fun. Remember, you are a family, not a business.

Agenda:
(Saturday — attorney facilitator present through lunch; screen and projector used)
10:00am

Gather, welcome, prayer
I Corinthians 13

Substitute with whatever your guiding principle is

Confidentiality commitment

It is okay to share you attended a Family Meeting and give some general outline, but specifics are not to be discussed

Icebreaker

For example, What was the most valuable positive experience/inspiration during Covid?

10:15am

Outline the agenda and order of the day
3 practices of flourishing families

Always striving toward greater transparency, openness and inclusion
Always learning to appreciate (even celebrate) one another's differences
Always striving to be a greater resource to one another

Communication is a process, not an event

10:30am

Balance Sheet

Note: We did not share exact numbers, but % & charts to give context.

Post-death Balance Sheet

This is a good exercise and reality check regarding cash flow and insurance impact.

Charitable Giving Stewardship

2020 Donations and historical allocations among receiver category

Wills & associated documents (POA's, etc)

We found it extremely beneficial to have our attorney present to explain and answer questions as not everyone is familiar with this subject matter and attendees need to understand at a base level to participate fully…and a key goal of the meeting is EDUCATION.

11:15am

Break

We provided coffee, water, and snacks.

11:30am

Prior Experiences: the good, the bad and the ugly

My wife and I had varying degrees of good and bad family experiences, of which we think it is critical to be as transparent as possible.

12:00 noon
12:45pm

Final questions for attorney

At this time, the attorney left and it was only our immediate family.

1:00pm

Asset Preferences

Specifically, who wants the farm in Texas vs. the art collection

Family Matters

Including holidays, lake house protocol, etc.
Where do we spend holidays? When do we celebrate? Do we want full family vacations or is that even important? What are the policies and responsibilities of a vacation home? And others

Specific Item Requests

I have always liked Grandma's cake plate.
We asked that they email that to us after the meeting.

Health Disclosures

As parents, we both gave a brief update on our overall health, and thankfully we have no current serious issues.

2:00pm

Final Q&A
Next Steps
Adjourn


Supporting Information:
Organizational Chart: Basically, a flow chart which helped drive structural alignment of our entities and ownership themes. It is a good reference and pictorial guide. This may not be necessary if you have a relatively simple or concentrated financial structure.
Post Death Balance Sheet & Cash Flow: Great exercise to both help understand where your wife will be standing from a passive income and asset mix, what impact life insurance will have and any guidelines to advise on while you still can.
Legacy Drawer: Generally, a reference guide for all things your survivors will be searching for when the knowledge source (you) are temporarily or permanently unable to assist. This includes all legal and professional contacts, all financial account information, all passwords, all insurance information, all auto-payment information. Additionally, this is the opportunity to leave any instructions, letters, etc. Also this is good support for generating estate and will documents.
Take-a-ways:
We were pleasantly surprised to see that all the kids value the investment in the lakehouse and the memories they have there enough to want to keep it. Based on the preferences of our children, we determined that ownership passes only to our surviving children. We emphasized that ownership does not come without a cost (ongoing maintenance, taxes, insurance, etc.) and they should be aware of that.
We were also grateful they were very interested in the charitable giving stewardship segment and asked a lot of questions drilling down into specific organizations. By including this segment, it helped us as a couple define our philosophy on charitable giving. This would be a good topic to educate and develop more in a future Family Meeting.
We were pleased to observe the desire to understand some of the more complex financial topics, such as ownership structure of real estate (e.g. TICs). Having an innate desire to learn is something that we know will be a key life skill.
We asked each child to send us a list after the meeting of any specific items they wanted and it would be added to an addendum on our will. We stated that requests for the same item would be addressed accordingly.

What would we do differently next time? Maybe nothing although that is NOT saying we conducted a PERFECT Family Meeting. Each family is different and you just have to jump in and test the proverbial waters.

What did we clarify from this first Family Meeting? The fragility of life didn't seem to surface any more than usual when focusing on estate planning topics, although the purpose of life, as a parent, crystallized. Leaving assets without a grounding mechanism is not unlike electricity sans a ground wire. Excess wealth, like excess electricity, can be fatal in a variety of ways over a short or extended timeframe. One must possess the aptitude to process not just what wealth is, but how wealth is innately tethered with responsibility. If you have assets which allow you to think above and beyond subsistence, then you enter the realm of responsible stewardship. Is responsible stewardship simply maximizing ROI (return on investment)? No. That would be too easy, in relation to coupling wealth with generationally responsible asset management.
This is becoming way too academic. How about a poem to get us back on track?
Working nine to five or five to nine
No time no, with the family to dine
You are young right, plenty of time
Family will wait, focus on the dime
Wait, one off to college, so quick
Like a candle with so short a wick
Gather yourself, yes time to recoup
Family meeting, yes the full group
Relax, few if any have got this right
And if they did — they didn't write
So be encouraged, give this a try
Sincere rapport, money can't buy

Here's the deal. We are all going to die and probably leave both physical assets along with emotional, mental and spiritual assets, and certainly some liabilities. It is imperative that we all consider the reality that these assets are all inter-related and you can not silo them. A family meeting is an effective method to segue and merge all of these assets in a way that will be most beneficial to your children (and guess what…their children and their children and their children). Wow — this is important stuff!

Don't leave this page without scheduling or at least self-calendaring a note to schedule your own Family Meeting.

You will not be disappointed.