I love baseball - the sport (the athleticism required, the explosiveness, the coordination), the game (the strategy, knowledge of the game and its intricacies), and of course the competition. Baseball season is officially under way. Pitchers and catchers have reported for MLB spring training, last Friday was opening day of college baseball and winter practices have started for youth baseball.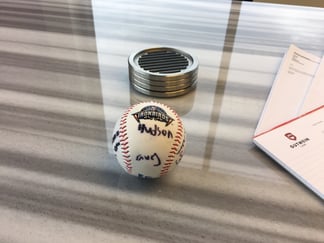 For several years now, I've been coaching youth baseball and one of my favorite things about coaching is watching a young boy transform over a season of baseball - turning from that scared boy timidly stepping into that scary batter's box, all alone to the confident plate pounding little man child ready to knock it out of the park. The thoughts running through his head turn from; will I get hit by the pitch? Will I strike out? Everyone is staring at me! With his knees shaking he has one goal… to not fail. His thoughts transform into; I got this. I can picture that line drive over the pitchers head every time. This is my box. Fear and confidence are both very real and have a profound impact on performance for anyone and especially for 8 year olds who are playing baseball. As a coach, I wanted to help accelerate this transformation so I looked for a resource and found The Mental Game of Baseball: A Guide to Peak Performance by H.A. Dorfman and Karl Kuehl. What I learned reading that book was much more about business than I had ever imagined. Here are a few things:
Gaining confidence is huge. The development of confidence requires risk taking. Help your players/leaders/lawyers understand that they won't have optimal results every time they try something new. Risks become less of a big deal if they know they won't get beat up for less than ideal results. If they do fail, coach them to ask themselves these questions. What did I do? What should I have done? What will I do differently? Teach them to take what they learned and move on. I believe that each time they will gain more courage to face a task and will perform it with strength and aggressiveness despite the ever present possibility of failure. As confidence grows it has a profound impact on their results when they try something new, their self-worth as well as the rest of the team.
It's vital to learn. At our firm we have three core values we strive to live by and "Relentless Improvement" is one of them. There is a mind-set or attitude that I have observed that helps the learning process. I've listed several of them below.
- Have an open mind- Look for new ways to do your thing. Experiment with these new approaches and never be satisfied with your knowledge or skill.
- Embrace discomfort- Recognize new ways are not immediately comfortable.
- Be patient- Give these new approaches a fair test of time - and effort.
- Be aware of context- Think and talk about the situation, not the problem.
- Be persistent- Follow directions, Follow up and follow through.
Goal setting maximizes. There is a quote from the book that say's "When properly selected, goals become a player's most important tool. A person who is encouraged to "just do your best" usually doesn't. If he doesn't clarify what his best might be; he doesn't extend himself to find out." Setting personal goals is essential for the realization of potential. Our professionals set goals annually and we check on them and adjust quarterly. We also set goals quarterly for the firm overall and discuss them at least monthly. Goal setting has made us deliver better legal services.
It's amazing to watch 8 year old boys play baseball. Let's face it, most of youth baseball is either strike outs, or picking up ground balls and throwing them to first. Boys who are told they can catch a fly ball or have a goal to "turn two" start believing they can do it.
ABOUT GUTWEIN LAW
Gutwein Law exists for one reason ‐ to help some of the best, most forward‐thinking businesses in the world and their stakeholders grow through high‐level legal counsel. Gutwein Law knows that we can only help grow companies and their stakeholders if we have the most forward-thinking, business minded legal talent, so we continuously invest in the development of our people.
ABOUT THE AUTHOR- Stuart Gutwein
Stuart Gutwein is co-founder and attorney at Gutwein Law. His career encompasses over a decade of experience in several areas of business including mergers and acquisitions, business formation, and product development. He currently serves on the Indiana Business Law Survey Commission, serves as a board member of M25 Group and is an active member of the Ag Law Council of the Indiana State Bar Association.